Lake Yojoa: Area Overview
Lake Yojoa: Area Overview
Yojoa-ED
Tue, 2010/03/16 - 19:04
Yojoa.ORG is concerned with the betterment of the Lake Yojoa region.  For our purposes this consists of a zone encompassed by the town of Yoro at the northeast corner and La Esperanza to the southwest as graphically demonstrated by the following map where the green rectangle outlines our area of interest. Or initial focus will be on the locations closest to the lake.  Weather in this area varies substantially depending on altitude, local wind patterns, etc.  One may notice that weatherreports are displayed here for five Honduran cities.  Two of these are Yoro, and La Esperanza as key representatives of our area of concern.  The other three constitute the three Honduran mainland international airports - namely: Tegucigalpa, La Ceiba, and San Pedro Sula.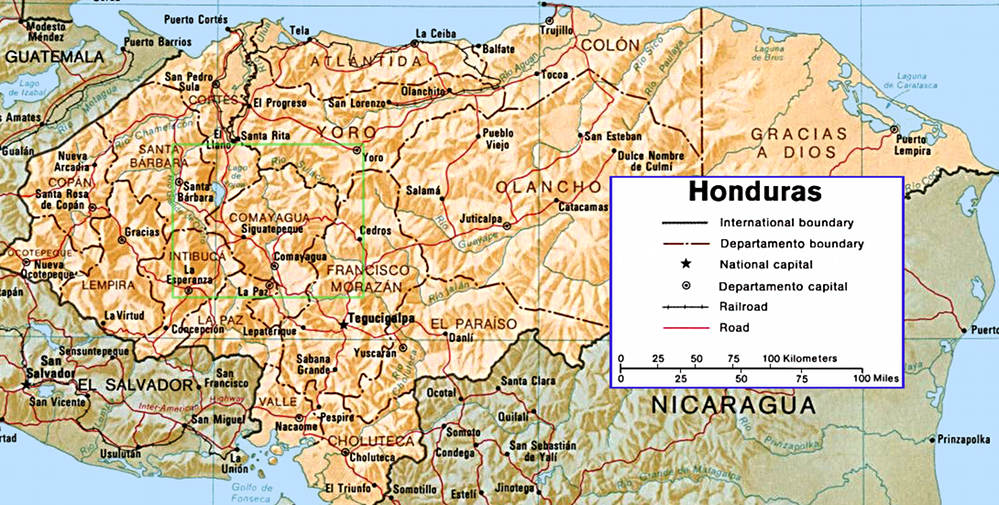 Lake Yojoa with a surface area of 80 square kilometers (31 mi²) lies at the heart of Honduras, which in turn is the hub of Central America. Accordingly the Yojoa area benefits immensely from the vast wealth of biology, culture and history which is common to this exceptional region.
The main highway connecting the Honduran capital of Tegucigalpa and San Pedro Sula (the country's industrial center) runs along the east side of Lake Yojoa (which is at 14.87°N and 87.98°W.).  This is some 160 kilometers from the capital (80km from SPS). Normal elevation of the lake is just under 700 meters above sea lever.  The basin was formed by volcanoes which provides a median water depth of 16.4 meters and maximum depths just over 30 meters at flood levels. The Lake's fish constitute an attractive recreation option, a commercial economic cornerstone, and for much of the Yojoa wildlife − an essential food source.  So Lake Yojoa is key to the area's rich biodiversity of nearly 400 bird species and 800 plants.
Lake Yojoa's eastern side is adjacent to Cerro Azul Meambar National Park (50 sq. km). This enchanting cloud forest extends skyward almost 2050 meters with its pine covered slopes. Well mapped and maintained trails, reminiscent of Muir Woods, makes for some of the finest hiking in all Honduras.  Several delightful waterfalls and swimming pools can be found here along with a variety of animals, including the elusive puma and jaguar.
The less developed west banks are framed in by steep mountains and the Santa Bárbara National Park. The climate over here is decisively more cloudy and at higher elevations lends itself well to growing blueberries.  Just south of the park, American Pacific Honduras S.A. de C.V. (AMPAC - a Breakwater subsidiary) operates the El Mochito mine and is largely responsible for the quaint thriving town of Las Vegas.  Breakwater has large surface land holdings in the vicinity and have created a secondary company, Mochito Agroindustrial, to protect the land and environment. Since its formation in 1995, the concern has grown from a small international marketer of ginger and organic pineapple to one of the largest producers of coffee in Honduras.
A pre-columbian settlement at Los Naranjos is found on the northern shore of Lago Yojoa. This site is known as the second most important archaeological zone in Honduras.  This area supported a population of several thousand from1000 BC to 1000 AD. Set within a lush expanse of flora and wetlands, the settlement has deteriorated significantly and is partially overgrown, but the nature walks are serene, and bird-life plentiful.
About 12km. further north of Los Naranjos one finds Rio Lindo's Pulapanzak Waterfall. The water cascades down 43 meters and creates a considerable spray, and with sunshine - a nice rainbow.  Above/before the waterfall is a park and cafeteria, plus good swimming holes.  Whereas a relaxed walk in the opposite direction down a winding path brings one to the bottom of the falls. After passing a gate the going gets a little precarious and you'll need to wade/swim through chest deep water until you finally come to the falls itself. A few steps and through a minor sheet of water will take you behind the falls where you'll find a small cave. Local guides can be found to assist.
20 km. south of Lago Yojoa (towards Tegucigalpa) are the Caves of Taulabe. The first few hundred meters have a well defined path with lights and steps.  More rugged exploration has reportedly gone as far as 12 km, without finding the end.  Other caves are also nearby.